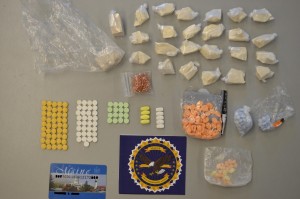 Whether you have been charged personal possession or distribution of drugs like heroin, marijuana or prescription medication, the ramifications of a conviction will be sobering. You will not only have a criminal record for years to come, if not permanently, but also face penalties that include jail, thousands of dollars in fines, and a suspension of your driver's license. All of this has the possibility of having an extreme effect on yours and your family's life. An attorney with comprehensive experience in drug cases like those at the Law Offices of Jonathan F. Marshall can safeguard against lifelong consequences and even avoid a conviction in general in many instances. Our former prosecutors and staff of defense lawyers have the ability to skillfully dissect almost any  possession with intent to distribute, school zone or other controlled dangerous substance ("CDS") offense so that the impact of a charge are minimized. To learn how we can help you, call our drug offense defense firm for a free initial consultation now.
New Jersey Drug Possession Defense Attorneys
In terms of overall numbers, the largest segment of drug cases involve simple possession and paraphernalia charges that are handled in Municipal Court. However, a sizable segment also concern more complex CDS violations involving selling drugs. While a conviction for either variety has the potential for causing serious issues in your life, a conviction for distributing always carries with it the possibility of a lengthy state prison sentence whether the original charge is a first degree, second degree, third degree or fourth degree crime. The best way to counter risks like these is to retain a qualified defense lawyer like those at our firm. We can offer you seasoned representation anywhere in New Jersey to the following drug related offenses:
Distributing Drugs in a School Zone
Public Park &  Housing Project Charges
Prescription Drugs
Cocaine
Drug Paraphernalia
Maintaining a CDS Production Facility
Leader of a Narcotics Trafficking Network
When it comes to persuasive representation in cases like these, there is no substitute for experience in our estimation. This is what we can offer you and much more than most firms. In fact, we cannot even identify another firm in New Jersey where there are seven (7) attorneys under one roof whose practices are dedication 100% to the defense. As if this were not special enough, many of the lawyers are former prosecutors who have the benefit of seeing how the system works from the other side. It certainly does not hurt that our resources also include over 100 years of combined experience. All of this collectively insures that you or your loved one has the level of representation needed to achieve the outcome you deserve.
Drug Distribution Lawyers Serving All Of New Jersey
It should certainly be clear to you that a drug conviction can result in huge problems irrespective of where it occurs in New Jersey.  At a very minimum (e.g. disorderly persons offense for marijuana or paraphernalia possession), you will have a criminal record and face a mandatory driver's license suspension of 6-24 months whether the CDS violation occurred in a motor vehicle or not. The potential outcomes only get worse from there. Our attorneys can help you combat this from happening and are available to provide immediate statewide assistance at 877-450-8301.