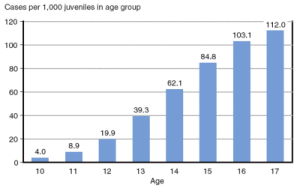 There are few offenses that trigger as much concern as an arrest of someone's child. Whether a parent has prior experience with the criminal justice system or not, there is always misery in witnessing your child in custody of police or, even worse, in juvenile detention. Our years of experience have made us very sensitive to the mental burden that parents bear in protecting their children from consequences that can effect their liberty and future. This is why we utilize our decades of experience to fight so hard for every juvenile offender we represent. Call the Law Offices of Jonathan F. Marshall for immediate assistance in defending your minor.
Juvenile Lawyers Serving All Of New Jersey
While extremely minor violations of the law can be referred to Conference Committee or a Juvenile Referee, all other charges must be dealt with in the Family Division of the Superior Court. And unlike an adult defendant, a juvenile nor his parent have the ability to proceed in court without an attorney. What this means is that you must either apply and qualify for a public defender or retain private counsel for your child. Our firm obviously serves in the latter capacity and handles all offenses and proceedings in Juvenile Court including:
Assault
Robbery
Drug Distribution
Marijuana and Other CDS Possession
Weapons Violations
Criminal Mischief
Retention Hearings
Waiver Hearings
Sex Offenses
If your child has been arrested and accused of any crime, we are prepared to go the distance for your family. With offices throughout the state and a team that routinely appears in Family Courts all over New Jersey, we are ready and able to serve you. Our attorneys will negotiate, battle or engage in a combination of the two in order to bring a favorable end to your child's criminal charge(s). We are know what you and your family need, and how to achieve a fair outcome.
Penalties In Juvenile Cases Can Be Severe
In extreme cases, the prosecutor may seek to waive a juvenile up to adult court and try him/her as an adult. In the typical case, however, special sentencing rules will apply to a minor in the Juvenile Division. Make no mistake, these guidelines allow for incarceration of a child and, in some cases, a presumption of years in detention. This is the case if your minor has been charged with a second degree or first degree crime. While a period of incarceration is not mandated or presumed in less serious cases (e.g. third degree, fourth degree or disorderly persons offense), the court nevertheless has discretion to impose a custodial sentence if desired.
Contact Our Law Firm For Immediate Assistance
Since we are aware that arrests, investigations and other circumstances arise after hours, we make our attorneys available 24/7 to assist you. A lawyer on our staff is prepared to help you child at the police station, detention, in court, or at any other segment of a juvenile case. Call us now for the skilled representation your child deserves.