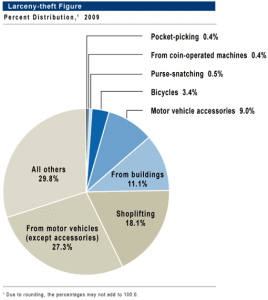 A broad range of criminal offenses fall under the category of theft and fraud charges. Although there are many consequences of a conviction for this type of crime, a major one is the fact that it portrays the accused as someone who is dishonest. This can have extreme ramifications when it comes to seeking employment, applying for loans, or anything else that involves a background investigation. At the Law Offices of Jonathan F. Marshall, we have the tools to successfully guide you through the criminal proceedings whether you are facing a second degree theft charge or a disorderly persons offense for shoplifting. We are a team of defense attorneys and former prosecutors with over a century of experience between us. Our attorneys will make sure your have the best chance of beating your case and avoiding a record.
Comprehensive Legal Defense To All Theft & Fraud Charges
After handling literally thousands of theft related cases, there is a level of knowledge and skill that one acquires. Those attorneys that comprise our firm possess this extensive experience and you acquire the benefit of it when you hire the Law Offices of Jonathan F. Marshall. Our attorneys can represent individuals throughout New Jersey who have been charged with:
Shoplifting
Theft by Deception
Theft of Services
Identity Theft
Credit Card Theft & Forgery
Robbery
Burglary
Bad Checks
Insurance Fraud
Prescription Fraud & Forgery
Receiving Stolen Property
If you have been charged with any of these offenses, the penalties you face can be significant. If you have been charged with a second degree crime, you can be sentenced to as much as ten (10) years in prison and fined $150,000. Third degree crimes carry up to five (5) years in prison and $15,000 in potential fines. The lowest grade of indictable theft charge is a fourth degree crime which involves maximum exposure of eighteen (18) months in jail and $10,000 in fines. Even a disorderly persons offense in municipal court for shoplifting or theft can result in six (6) months in the county jail. Don't make the mistake of underestimating the ramifications of a theft charge when it is too late to turn the tide. Get proper representation as soon after your arrest as possible so that your interests can be fully protected.
Fraud Charge Defense Attorney in New Jersey
Cases involving allegations of fraud can be complicated, especially when the facts are less than clear as to the intent of the accused. A savvy criminal lawyer can, however, use this to his/her advantage. Our team of attorneys know how to properly analyze facts and develop legal issues to allow for a favorable plea bargaining or even an acquittal. Our experience often points us in the right direction since it is so extensive between the members of our team. Let us utilize our knowledge and skills to fight your theft charge and achieve an outcome that is favorable. An attorney is available 24/7 to assist you and consultations are complimentary, so give us a call.