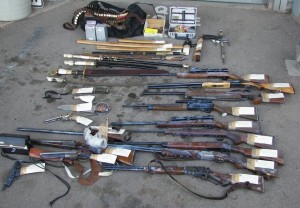 New Jersey law imposes serious consequences for those convicted of weapons violations, especially when they involve a firearm or handgun. The penalties only escalate if the charge involves someone who is a certain person not to have a weapon or the weapon is possessed for an unlawful purpose. These cases often carry mandatory state prison sentences and strict limitations on plea bargaining, making skilled representation imperative for those facing these types of charges. At the Law Offices of Jonathan F. Marshall, we offer experience and qualifications that are uncommon. We can afford you the knowledge and expertise of seven (7) defense lawyers, 100 years of collective experience, and a team that includes several form prosecutors. These types of characteristics are scarce in law firms, if not nonexistent elsewhere in the state. We are available 24/7 to discuss your case and what would be involved in our representing you.
Defense Attorneys for Handgun, Firearm & Other Weapons Charges
Since any object that is capable of inflicting harm to a person or property can be considered a "weapon" under NJ Law, tens of thousands of weapons violations are filed in the state each year. While items like bats, bottles, and knives are not uncommon, a large block of these charges involve firearms, including handguns. The additional problem that arises when this variety of weapon is involved concerns the Graves Act, a law that imposes strict sentencing guidelines for those possess a handgun and certain other firearms without a permit. Our attorneys are knowledgeable in the intricacies of this law and what is involved in avoiding jail in cases like these. We offer representation in the defense of the following weapon offenses:
Possession of a Handgun Without A Permit
Unlawful Possession of a Weapon
Certain Persons Not To Possess A Weapon
Illegal Weapons
Imitation Firearms
Possession of a Weapon for an Unlawful Purpose
Possession of a Weapon During the Commission of a CDS Offense
BB, Pellet & Airsoft Guns
Unfortunately, individuals often learn for the first time that they are violating one of these law when they are being arrest. Such is the case for the out-of-state trucker or individual passing to or through New Jersey with a weapon that was lawfully purchased elsewhere. The key is not to take a charge like this too lightly because there are exceedingly strict and harsh rules as to what prosecutors and judges can and cannot do when it comes to weapons cases, especially those involving firearms. These charges are not for the inexperienced so take the time to call one of our weapons offense defense lawyers.
Call Our Weapon Possession Attorneys in New Jersey
The harsh and somewhat inflexible nature of New Jersey weapons laws makes it exceptionally critical that you obtain seasoned representation if you are facing this type of charge. You will need an attorney who is not only knowledgeable but creative and extremely persistent in order to avoid the extreme, including state prison in many cases. Our firm, the Law Offices of Jonathan F. Marshall, has both the ability and desire to provide this level of service. Call us for a free initial consultation at 877-450-8301.